Carlos Correa owned the winter. The summer? That's a different story.
After an offseason of high drama, intrigue, two torn-up long-term contracts, endless speculation about his medicals and the long-term health of his right ankle, and a surprise return to the Minnesota Twins, the superstar shortstop has scuffled mightily in 2023. With just a few short weeks left in the regular season, Correa has a suboptimal .231/.312/.399 batting line with just 17 home runs in 124 games.
What was supposed to be a heroic return to the Twins Cities, a supersonic franchise face set to carry a fallen franchise to its first postseason win since 2004 has instead been a dispiriting disaster. Thanks to the one-ply American League Central, the Twins remain a likely division winner, but their offense has underwhelmed all season long, in part because of Correa's constant struggles.
In fact, the soon-to-be 29-year-old is chasing the type of record you never want: most double plays grounded into in a single season. Entering Wednesday's play, Correa has made two outs with one swing a whopping, league-leading 29 times this season. That's the highest single-season total since Casey McGehee's 31 GIDP performance in 2014 and puts Correa within shouting distance of Jim Rice's all-time record of 36 double plays.
Minnesota has 23 games left on the docket, which means Correa would need to average a double play every three games to pass Rice, a legitimate possibility considering the shortstop's recent run of play. Peel back the factors producing these twin killings that are killing the Twins, and you'll gain a better understanding for why 2023 has been a year to forget for the two-time All-Star.
First, some logic: Hard-hit baseballs produce more double plays than softly hit baseballs. Higher exit velocities mean less time between contact and the ball reaching a fielder's mitt, which means less time for the runner to beat the throw to first base. Despite his overall blah-ness, Correa has continued to rip the baseball with verve; his 45.7 hard-hit percentage is in the 73rd percentile league-wide.
It makes sense, then, that 19 of Correa's 29 GIDP were hit 90 mph or harder (the league average exit velocity for a GIDP is 88.9).
Correa's bigger issue, quite obviously, is that he's scorching these baseballs on the ground and not in the air. His sweet spot percentage — the number of baseballs hit between an 8- and 32-degree launch angle — is just 30.4%, a full-season career low that rates in MLB's 15th percentile mark. Smoking the pelota doesn't matter if it's finding grass and not bleachers.
Then, there's Correa's sprint speed.
Even though all the offseason ballyhoo about his surgically repaired right fibula hasn't yet manifested, Correa has experienced a plethora of other lower-body issues over the course of this season. His went on the injured list earlier this season with a strain in his left foot and was simultaneously diagnosed with plantar fasciitis.
Plantar fasciitis tends to linger, hampering a player over a longer period of time if they don't rest and recover. Correa's situation is no different. After that IL stint in May, Correa has more or less played every day, opting to push through the discomfort as the Twins push toward the postseason. It's an admirable approach, but one that has clearly limited Correa's explosiveness at the plate, and more importantly, on the basepaths.
Correa's 34th percentile sprint speed is a career low. To put that number in perspective, 24 catchers are faster than Correa right now. A combination of typical aging and those lower-leg issues have slowed the once-speedy shortstop to a crawl. His inability to bust down the line has undoubtedly played a role in all those double plays. Usain Bolt never led the league in twin killings.
And then, as always, there's bad luck, that evil, evil beast. Correa's under-the-hood numbers this season are far from spectacular, but his expected batting average and expected slugging percentages based upon his batted ball data exceed his traditional stats. The general misfortune has only accentuated his overall struggles, and the same goes for his basket of double plays.
Eleven of Correa's double-play grounders this year were smoked 95 mph or harder, including eight over 100. It's always better to elevate and celebrate instead of supporting groundhog day, but it's tough to fault Correa for moments like this 109.5 mph double play from a few weeks back.
There are myriad reasons to watch Minnesota right now, despite the embarrassing mediocrity of their division mates. The Twins, now seven games up on Cleveland, are almost certainly postseason bound. To break their decade-plus October schneid, they'll need Correa, the man to whom they gave the largest contract in franchise history, to get healthy and get right.
To Correa's credit, he's remained a positive presence in the clubhouse even as his offensive production has cratered, but the Twins didn't sign him just to hoot and holler and lead a group of men. They signed him to make memories, break records and lead the league in stuff … other than double plays.
But for the next few weeks, keep an eye on this mark. It could go down to the wire.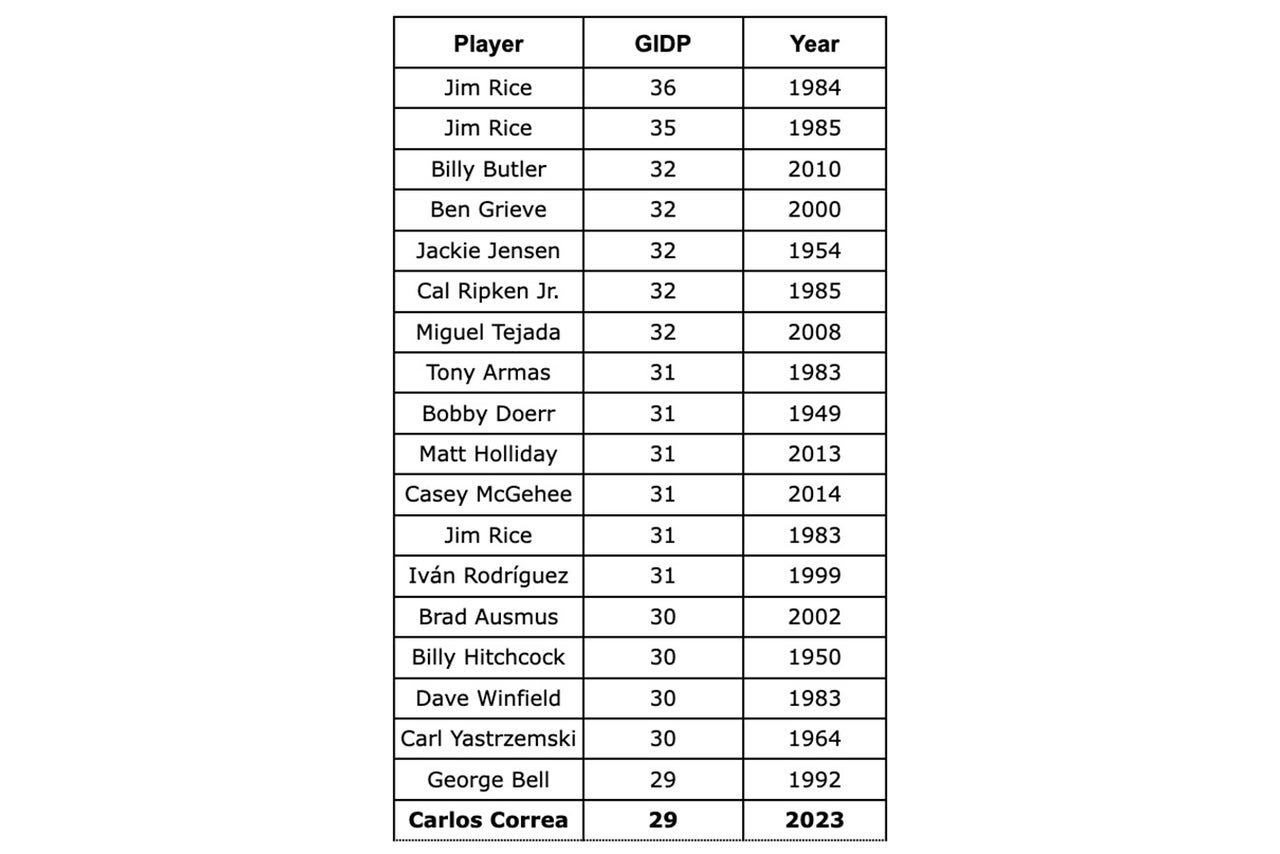 Jake Mintz, the louder half of @CespedesBBQ is a baseball writer for FOX Sports. He played college baseball, poorly at first, then very well, very briefly. Jake lives in New York City where he coaches Little League and rides his bike, sometimes at the same time. Follow him on Twitter at @Jake_Mintz.
---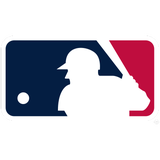 Get more from Major League Baseball Follow your favorites to get information about games, news and more
---