DARLINGTON, S.C. — While Kyle Larson won Sunday night at Darlington Raceway, the playoff opener wasn't too kind to many other drivers who have previously won a Cup title.
That isn't too surprising considering the way the 2023 season has played out. Except for Larson and Martin Truex Jr., the season hasn't been all that kind to past champions.
Six past champions made the 2023 playoffs, with Truex (2017) and Larson (2021) among the favorites to make deep runs through the postseason and challenge for the title. While Larson won at Darlington, Truex struggled to an 18th-place finish.
The regular-season champion, Truex should be able to put this one behind him, and he has a 25-point cushion on the current playoff cutoff.
Looking for more NASCAR content? Sign up for the FOX Sports NASCAR Newsletter with Bob Pockrass! 
The other four past champions who made the playoffs (2020 champ Chase Elliott didn't make the playoffs) all could be considered underdogs.
Brad Keselowski, the 2012 champ, continued his 2023 surge with a sixth-place finish at Darlington. Kyle Busch (2015 and 2019 champion) finished 11th with Joey Logano (2018 and 2022) right behind him in 12th. 
Kevin Harvick (2014 champion), competing in his final Cup playoffs with his retirement coming at the end of the season, was in position to contend for the win but finished 19th due to an untimely pit-road penalty.
Harvick is the only one of the past champions currently below the cutline with two races (Kansas and Bristol) left in the opening round. If these champions know anything, it is about how to survive and advance in the elimination-style playoffs where the four winless drivers with the fewest points get eliminated after each three-race round.
Logano is the defending Cup champion, but he entered the playoffs as an underdog considering recent performance and finishing 11th in the points standings. He sits just three points above the cutline after a frustrating Darlington race in which he hit the wall multiple times.
"I probably could have done a little better," Logano said. "I probably gave up overall 15 points on the day. … Those 15 would be nice."
Logano said earlier in the week that the key is to make it to the third round, where then he would likely have to win.
"On paper, it may look like you're the underdog, but there's times internally you feel like you're the favorite," Logano said. "We've got to work toward that point still. We still have to get faster; we're not quite at that point yet.
"We have to survive long enough through the first six weeks, get to the Round of 8 and at that point, we have to win. Up until then, this race team has everything we need to get through those rounds for sure."
For Logano, that's not anything too new. He has made it to the championship round five times in the past nine years, with championships in 2018 and 2022. 
"I feel like our team has been through a lot of this before, and I've been in this scenario going into the playoffs before where you're overlooked and others don't think you're going to make it all the way," Logano said. 
"But there's been plenty of times where the 22 team has made it to the Championship 4 and had a chance to win the championship in years that we may be the underdog. So I feel OK about that."
The other two-time champ in the field, Busch has won three races this year but probably isn't seen as a favorite. Richard Childress Racing hasn't won a championship since 1994 and only had a driver eligible for the title in the championship race in 2014, the first year of the current playoff elimination format.
Busch left Darlington with a 20-point cushion on the cutoff.
"I feel like we have an opportunity to go out there and excel," he said. "Besides the derail moments that we've had — the engine at Indy, me crashing at Michigan, pit road issues at Pocono, if we can be clean and make no mistakes, then our top-10, top-5 potential is huge.
"That's where we've got to focus on right now in these final 10 weeks."
Busch finished the regular season ninth in the overall point standings. He said the team's simulation programs haven't always been as on-point as they would like. 
"There's been times where it's been right on, spot on, and it's helped us out and times where it hasn't been great and has kind of derailed us," he said.
Keselowski has made it to the championship round only once in the past five years, and he is riding an 89-race winless streak after a sixth-place finish at Darlington.
"We've knocked on the doors quite a bit," Keselowski said about whether he can win, which he likely will need to do to contend for the title. "If we keep knocking the way we've been, we'll break through."
While it has been a breakthrough season at Roush Fenway Keselowski Racing — Keselowski became a co-owner prior to the start of last season — Keselowski knows that the odds probably aren't in his favor despite finishing fifth in the regular-season point standings.
At least he has an 18-point cushion on the current cutoff, and he might need it. Keselowski was 19th at Kansas earlier this year so he probably just needs to hope for a decent performance and then go to the high-banked short track of Bristol, where he led 109 laps last year before a tire issue foiled his race on a night when teammate Chris Buescher scored the first win for RFK.
"We seem to have really good cars for the superspeedways," Keselowski said. "The package that we have with the aero and the engines is really well put together.
"And vice versa, we're not where need to be with the aero and the engines for the flatter tracks and the mile-and-a-half style tracks. If you look at these playoffs and how they play out, it's predominately those and that's going to be a challenge for us."
And then there's Harvick, who sits two points behind the cutoff and hasn't won in his last 39 starts.
"I've been in all sides of the fence," Harvick said about being in the playoffs without a win yet this year. "It's really no different. You go and prepare and you race.
"As you look at everything in general, it is a big ship to turn when it's not going good or it is going good to change the direction. You go into it and see what happens."
This isn't the first time Harvick has raced as an underdog or needing to perform in the clutch. 
"We've overcome a lot," Harvick said. "It isn't the first time we've had performance struggles. … We've put ourselves in a position to grind away and be able to just do what we needed to do to put ourselves in position to keep going and stay alive. 
"We've had some chances to win some races. It's just we haven't, it just hasn't worked out. We know that the capability is there. It's just our window of opportunity is small, and you've got to hit it right." 
All four past "underdog" champions at least have the confidence they can get the job done. And they should, with this system where it comes down to one race at the end (at Phoenix) — as long as a driver can continue to advance.
"We're going to give it a fair shot to get to Phoenix," Busch said. "If you get to Phoenix, I think anybody has a shot to win the championship. Is the first round easy? Look at last year — I blew up twice. No, it's not."
Thinking Out Loud
Before NASCAR had commitment lines for drivers to be committed to pit road, drivers would make dangerous moves cutting back up on the track when trying to fake out those behind them that they were pitting.
So NASCAR came up with a rule to have a line where once a driver is past the line, the driver is committed to pit road. It works well most of the time, but the rule bit Kevin Harvick at Darlington.
When the caution comes out, the pits are closed, and Harvick was too close to the line when the caution came out that he had no choice but to cross the line and go down pit road. He could have kept going and just lost spots for maintaining pit road speed, but the team did the pit stop and he had to go to the tail of the field.
Could there be a zone that if a driver is in the zone, then they aren't penalized? It's possible, but there still would be a line to start the zone and still the possibility of just being a victim of circumstance. Teams know the rule and appear to accept it as being just one of those things.
In The News 
–For the playoffs, Christopher Bell has the over-the-wall pit crew that pitted the car of Joe Gibbs Racing teammate Ty Gibbs during the regular season while Gibbs, who isn't part of the 16-driver playoff field, will have Bell's crew for the remaining 10 races. The Gibbs crew won the pit crew competition during All-Star weekend and is considered one of the best crews on pit road.
—Carson Hocevar will continue to drive the Legacy Motor Club No. 42 Cup car at Kansas and Bristol and likely several additional races the remainder of the season. The team could opt for Mike Rockenfeller to run the remaining road course at Charlotte.
–Team Penske swapped crew chiefs and most of the road crews for Austin Cindric and Harrison Burton (Burton drives for Wood Brothers Racing, a Penske affiliate). Brian Wilson, who won 13 Xfinity races and a series title with Cindric, is now crew chief for Cindric while Jeremy Bullins is now working with Burton. Bullins was crew chief for the Wood Brothers from 2015-17. Both Cindric (22nd in the standings entering Darlington) and Burton (30th) have had frustrating seasons.
–NASCAR heavily penalized ThorSport Racing for a valve stem violation at Milwaukee. Ty Majeski was docked 75 regular-season points and five playoff points while crew chief Joe Shear was suspended for four races and fined $25,000. The team did not appeal the penalty. Majeski will still advance to the next round of the playoffs because he won the opening race at Indianapolis Raceway Park.
 Social Spotlight
Stat of the Day
This year is the first time since 2017 that a driver who made the Championship 4 the previous year didn't make the playoffs (Chase Elliott). In 2017, Joey Logano didn't make the playoffs and Carl Edwards had retired. 
They Said It
"Adding this trophy to the collection is going to be amazing," —Kyle Larson
Bob Pockrass covers NASCAR for FOX Sports. He has spent decades covering motorsports, including the past 30 Daytona 500s, with stints at ESPN, Sporting News, NASCAR Scene magazine and The (Daytona Beach) News-Journal. Follow him on Twitter @bobpockrass, and sign up for the FOX Sports NASCAR Newsletter with Bob Pockrass.
FOLLOW
Follow your favorites to personalize your FOX Sports experience
---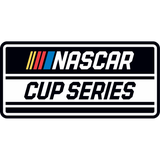 Get more from NASCAR Cup Series Follow your favorites to get information about games, news and more
---